We have on our panel dedicated surgical specialists, for management of cancers of the head and neck, breast, thorax, gastrointestinal tract, female reproductive system and genitourinary tract. We offer surgical expertise for all oncology cancers through excellent teamwork, the best in both human and robotic surgeries. We treat all types of malignancies with very low mortality and morbidity rates. Along with the support of radiation oncology department and medical oncology we have been successful in downstaging many malignancies to an operable stage where we are able to send the patient home cancer free. Malignancies like head and neck cancers with complex reconstructions, breast and thyroid malignancies, all intestinal and gastric malignancies are performed on a regular basis. Robotic technology is at our service and the expertise to operate on difficult tumours, plus handling large, complex abdominal tumour surgeries where masses as large as 30 kg in weight and above have been successfully operated upon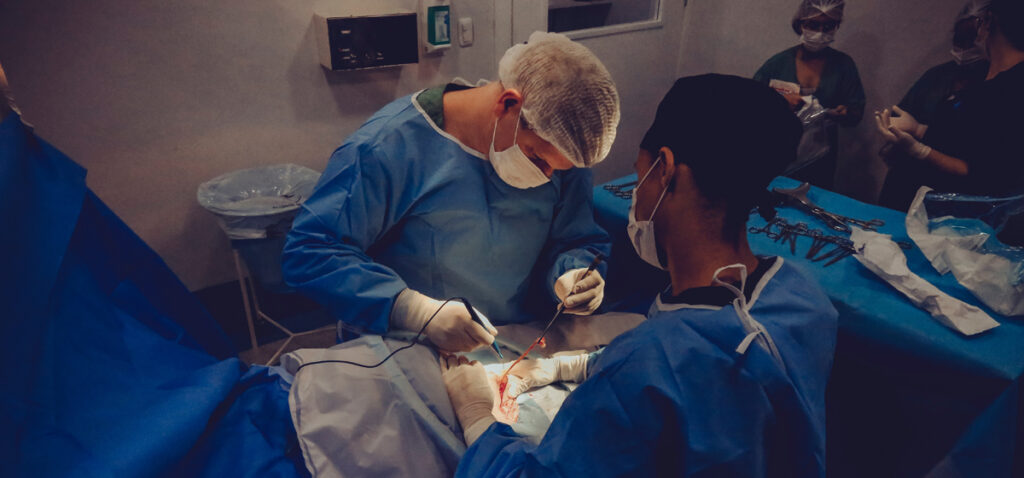 One of the cornerstones of cancer treatment is surgery. In recent times, therapeutic approaches such as minimally invasive surgeries and robotic surgeries have made surgery one of the most effective and powerful cancer management approaches.
The Ushta Medicare surgical oncology team is comprised of trained and experienced surgical oncologists who are experts in managing simple to complex primary and secondary cancers, and place equal importance on maintaining patients' quality of life. In some cases, organ removal is necessary to prevent the cancer from spreading and improve the chances of survival. In these cases, reconstruction of the organ is necessary. Ushta Medicare has an excellent team of reconstruction experts who are trained to restore the structure and function of the affected organ and help patients regain confidence and lead a normal life.
The Role of Surgery In Cancer Treatment
Surgery removes the tumor along with a small amount of surrounding healthy tissue known as the margin. Surgery is used at various stages of cancer treatment:
Surgery or a biopsy is considered when various types of cancer are diagnosed. A biopsy helps oncologists determine the type, stage, and size along with other parameters related to a particular cancer.

Surgery removes the tumor and affected lymph nodes and organs and prevents the cancer from spreading to other areas.

Surgery can also help rebuild parts of the body that have been operated on to treat cancer.

Surgery may also be done as part of palliative care to relieve cancer symptoms.
There are a number of factors that surgical oncologists consider before recommending surgery for a cancer patient. Key factors include the type of cancer, size, tumor stage, location, and grade along with general parameters such as the patient's age, underlying medical conditions, and general physical condition.
Treatment techniques like radiation therapy, chemotherapy, or hormone therapy are frequently combined with surgery. This multimodal approach has been shown to be more effective in treating cancer and preventing recurrence than single-line treatment.
Advanced Surgical Procedures at Ushta Medicare
Organ-Sparing Surgery:
During organ-sparing surgery, specialists remove only the tumor and not the entire organ. Organ preservation surgeries play an important role in the management of cancer of the breast, tongue, throat, prostate, etc.
The main advantages of organ preservation surgeries:
Organ-sparing surgery helps you recover faster from treatment

Organ-sparing surgeries cause less damage to surrounding healthy tissue

These surgeries help preserve quality of life and a sense of trust between patients.
Reconstructive Surgery:
For some types of cancer, the organ affected by the cancer must be removed along with the surrounding tissue and sometimes the lymph nodes as well. These organ removal surgeries can change the appearance or decrease the function of the organ affected by the cancer, which can be the region of the head and neck, breast, bladder, colon, etc. to restore the appearance or function of an organ that was once affected by cancer.
Reconstructive surgery involves moving tissue or bone from a different part of the body to the part where the cancer surgery is done. These tissues can come from the abdomen, upper back, buttocks, or inner thighs.
Reconstructive surgery has the following advantages:
Reconstructive surgeries help restore the function of the organ affected by the cancer.

Reconstructive surgeries further restore the appearance of the surgically removed organ and have a positive impact on aesthetics.

Patients may regain their sense of self-worth and confidence after these procedures. Reconstructive surgeries can have an overall positive impact on the psychosocial well-being of cancer patients.
The latest technologies, such as 3D printing, are helping surgical oncologists today to convert 2D MRI/PET/CT scans into a detailed and viewable 3D model. Oncologists may be able to plan treatments more effectively as a result of this. 3D modeling also aids in reconstruction surgeries by providing a better picture of cancer damage.
Minimally Invasive Surgery
Minimally invasive surgeries, unlike open surgeries, require very few, smaller incisions to operate on and remove tumors. These surgeries cause less damage to surrounding healthy tissue. Other benefits of minimally invasive surgeries include less pain and blood loss, faster recovery, shorter hospital stay, and overall fewer complications.
Endoscopic surgery or minimally invasive surgery uses an endoscope to study the internal organs and look for abnormalities through very small incisions. During endoscopic surgery, a thin, flexible tube with a camera and light along with a surgical tool is inserted through small incisions or natural openings such as the nostrils and mouth. Some of the more popular endoscopic procedures are thoracoscopy, laparoscopy, gastroscopy, and colonoscopy.
High-intensity light beams are used in laser surgery to harm cancer cells. Laser surgeries can be used to reduce or destroy cancerous and precancerous growths. This form of surgery is most commonly used to control superficial cancers, such as early-stage cancers of the cervix, vagina, lungs, and skin. Laser surgeries are also used to relieve symptoms of cancer, control the spread, and slow the progression of the disease.
Robotic surgery is a modality of surgical approach that redefines precision and flexibility and therefore makes the surgical management of tumors more effective. Robotic surgeries give oncologists more control – this helps them to precisely operate on the tumor without causing much damage to surrounding healthy tissue. Like other minimally invasive procedures, robotic surgery uses small incisions to reach the tumor and operate on it.
During robotic surgery, robotic arms perform the operation and these arms are controlled by the surgeon sitting at the console. The available high-definition 3D images help the surgeon understand the location of the tumor and perform surgery more precisely.
The main benefits of robotic surgery include less pain, lower risk of infection, shorter hospital stay, less scarring, and faster recovery.
At Ushta Medicare, we house the innovative da Vinci Robotic Surgery System that allows the surgeon to perform surgeries with greater freedom and precision than ever before. This robotic surgery system allows surgical oncologists to comfortably perform complex surgeries and improve the chances of positive clinical outcomes. The system's intuitive EndoWrist technology improves the efficiency of the procedure by offering a greater range of motion of the arm.
At Ushta Medicare, we begin treatment planning with a comprehensive assessment of the patient's general condition. Then comes the prognosis of the various treatment approaches and potential side effects along with methods to proactively manage them. A team of oncologists, dietitians, rehabilitation experts, and other physicians work with the surgical oncologist to help patients make a full recovery and have a better quality of life after surgery.
FAQs on Surgical Oncology