We offer successful solutions for Spinal problems ranging from cervical or lumbar spondylosis that result in neck and back pain to slipped disc (sciatica), spinal stenosis, spinal infections like tuberculosis, osteoporotic vertebral fractures, spinal cancer and deformities of the spine like scoliosis, kyphosis and spondylolisthesis. The management of spinal ailments requires a dedicated team that provides comprehensive management of spinal problems including structured non-operative treatment, pain block injections, minimal access (key hole) spine surgery and complex reconstructive spine surgery.
We combine clinical excellence and experience, cutting edge technology and unrelenting attention to patient safety in order to provide "Radically better outcomes for patients with spinal problems".
Our partner hospitals have pioneered in complex reconstructive surgery for spinal fractures, infections and tumours. Our comprehensive non-operative program goes a long way in the management of various spinal problems and aiding our specialization in spine deformity surgery and minimal access spine surgery. lasting solutions to Spine problems are supported by specialties such as neurology, neurophysiology, neurosurgery, rheumatology, pediatrics, geriatric medicine, radiology and physiotherapy to offer unique, multifaceted approach to care of patients of all age groups with spinal ailments.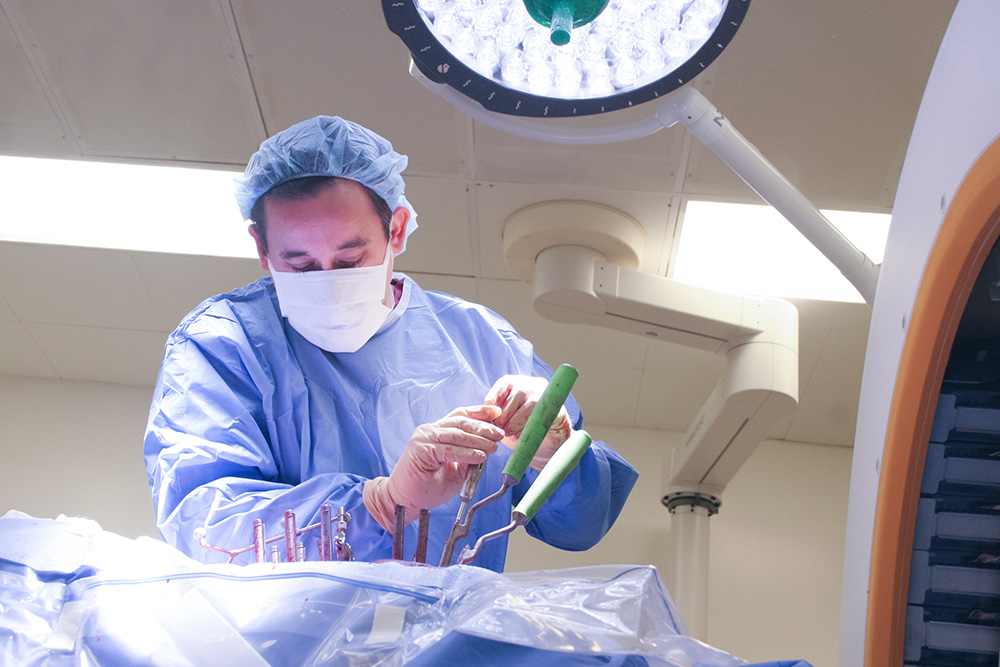 Spinal surgery is a surgical procedure for the treatment of spinal deformities, trauma, and related disorders.
Why us for spinal surgery?
100% safe and high-precision surgery

Computer-assisted surgery

Artificial intelligence and mixed reality spine surgery

Internationally renowned spine surgeons

Internal physiotherapy center for rehabilitation
Ushta Medicare Department of Orthopedics works with a focus on "safe spine surgeries". Our team of experts is recognized worldwide for its dynamic innovations and expertise in this field. Some of our spine surgeons have introduced many "firsts" in India, including the second generation hybrid lumbar one-piece viscoelastic artificial disc replacement (LP-ESP), Extreme Lateral Interbody Fusion XLIF (first equipment also in Asia) and MiS 360 fusion for adult degenerative scoliosis. We have the experience and cutting-edge technologies to treat a wide range of conditions such as degenerative conditions, injuries and cancers.
All About Surgery and Spinal Treatments
About Spine Surgery
Spinal surgery is a procedure to expose the anatomy of the spinal structure and treat it for a variety of conditions and ailments. Spinal surgery is often referred to as a last resort when non-surgical alternatives such as exercise, physical therapy, anti-inflammatories, and other medications have not been effective.
Spinal surgery can be performed in a traditional and minimally invasive way. In traditional (open) spinal surgery, all or most of the spinal curvature is exposed for treatment, while minimal access surgery allows the surgeon to avoid operating on surrounding muscles and tissues. Minimally invasive spine surgery (MISS) is preferred over conservative surgery as it offers a number of benefits including a shorter hospital stay, faster recovery, lower risk of infections, less bleeding, and less postoperative pain.
Indications for Spinal Surgery
The goals of spinal surgery are injury stabilization, prevention of further injury, relief of symptoms, correction of deformities, and early mobilization, among others.
The Following Conditions Can All Be Treated With Spinal Surgery:
There are different types of spine surgeries and procedures. The type of spinal surgery depends on the patient's condition, the severity of the symptoms, the cause of the condition, the patient's general health, age, and other factors.
Common types of spinal surgery include:
Discectomy

Laminectomy

Laminotomy

Disk replacement

Spinal fusion
Your doctor will first assess your condition. You can expect to undergo certain investigations and tests, such as X-rays, MRIs, laboratory tests, and more. After his investigations, your doctor will give you the mandatory instructions before the surgery.
Depending on the type of condition, symptoms, and type of surgery, the surgeon will proceed with the treatment.
Also, your recovery will depend on your treatment and the type of surgery. You must strictly follow your surgeon's instructions to achieve a full and speedy recovery.